Pandemic-inspired property management shifts that will live on in a post COVID world
Diana Pittro | March 2, 2021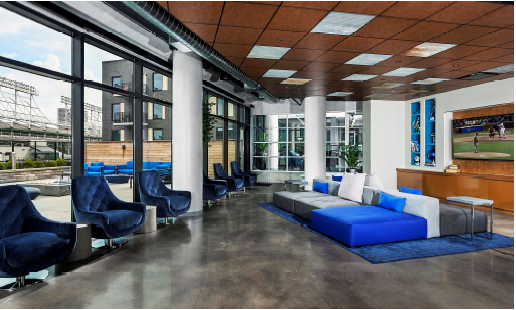 It's been almost a year since our property management teams found themselves on the apartment front lines of the pandemic, being recognized as essential workers and needing to adapt quickly to establish clear processes and procedures to ensure the safety of residents and on-site teams. Through it all, we learned some valuable
lessons in what worked, what didn't and what should be incorporated into "normal" processes going forward.
Here are a few of the biggest operational shifts our managements teams experienced that we think will live on in a post-COVID-19 world.
Resident communication and events
In every business, communication is critical and property management is no exception. During the onset of the pandemic, many property management firms
increased the frequency of their meetings with some having daily—if not hourly— updates with critical information for residents and team members. These messages
were focused on sharing the most recent information about the coronavirus and explaining newly established protocols designed to keep residents and staff safe.
However, as everyone grew accustomed to these new guidelines and at-home lifestyles, the frequency of communication slowed, and management turned to asneeded
communication and updates. While most of this communication took place in a traditional method, with information posted in buildings and shared via email to residents, managers also turned to social media sites for properties to communicate timely and important messages, plus inform residents about virtual events. Residents responded favorably to this new format, and we expect communication via social media platforms to continue.
One of the most challenging impacts of the pandemic for property management teams to navigate has been building a sense of community without actually coming
together in person. In response, on-site teams thought outside the box and created virtual resident events that varied by property. Some examples from RMK-managed
properties like The Residences of Addison & Clark in Chicago's Lakeview neighborhood include Saturday story time for children; food truck visits; pickup and drop off of holiday food items like turkeys and sip-and-paint events. Properties also organized resident door drops of necessary (think toilet paper) and seasonal items. This kind of thoughtful interaction truly resonates with residents and positively reinforces why they love their buildings. Because of the favorable resident engagement received, these virtual events will continue and be augmented with in-person events once it is safe to do so.
Management operations and maintenance
Property management firms have shown fierce dedication to ensuring the physical and mental health of their on-site teams during these challenging months. As essential workers, property management teams have been keeping buildings safe and running smoothy while simultaneously meeting residents' needs and addressing
their fears. To help alleviate some of the extra stress on-site teams encountered, many management firms invested significantly in finding ways to better manage the load.
For example, most property management firms will likely continue using staggered hours for on-site teams and continue offering work-order tutorials and self-guided tours for leasing prospects. Our on-site teams have reported that self-guided tours have been a great experience for potential renters—especially in the early stages of their apartment search and specifically at smaller buildings.
Throughout the course of the pandemic, property management firms also learned that many functions can be done efficiently and effectively from home (a positive surprise)—but that is not the case for everything. Some work, such as the actual leasing of units, is more effective in person—especially in Class A buildings. As they command premium rents, these luxury buildings demand a customized and personal touch to keep fully leased.
Providing residents with the opportunity to conduct some minor in-unit maintenance also yielded positive results, so residents can expect the availability of maintenance training videos to continue. Residents should also not be surprised to see maintenance team members continue to wear masks around the building and when entering units.
And as many residents plan to enjoy a WFH lifestyle even after firms start to return to the office, the extra precautions and extended hours maintenance teams put in
place to accommodate residents' 24/7 in-unit lifestyle will remain the same. But as cities continue to lift restrictions and a vaccine is rolled out nationwide, it's expected that in-unit maintenance hours will return closer to a pre-pandemic schedule.
While the pandemic initially caught everyone off-guard, property management firms have always prided themselves on their flexibility, creativity and resiliency. As a result, property managers will continue this path as teams find the balance between old and new as we work together in 2021 to keep building assets wellmaintained
and residents safe.
About the author
Diana Pittro is Executive Vice President at RMK Management where she oversees all management, marketing and operations as well as capital programs for the RMK
Management Corporation portfolio. She is responsible for day-to-day operations of RMK and has been actively engaged in all due diligence projects for the company
and its owners.