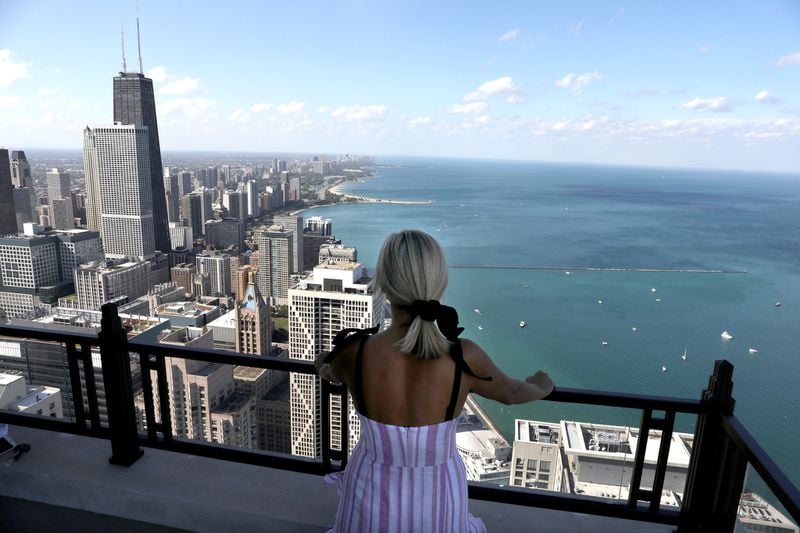 Chicago's skyline is famous for a reason. Historic architecture, towering glass facades, beach scenes — heck, we even placed a Ferris wheel front and center.
Our city has a picturesque quality, practically made for "greetings from" postcards and Instagram stories.
But within the lakeside landscape, some buildings boast more majestic views than others — unobstructed sightlines that showoff off the details our city is known for the world over.
Lawrence Hyman, a 29-year resident of 2626 N. Lakeview Ave. in Lincoln Park, thinks his 42-story building has remained popular through the years because of its location and, of course, the views. "If it's a clear day, you can see all the way to Gary, Indiana," he said. "And at night you have gorgeous views looking West — you just see all this light. And then you have the lake and park in front of the building." Other rooftop perks include a pool and sundeck with grilling area.
Justin Stuck and his girlfriend live on the 15th floor of newly opened 727 W. Madison in the West Loop. What the couple lacks in Lake Michigan and Lincoln Park scenery, it more than makes up for in city lights. Their one-bedroom, one bath unit on the southern curve of the building boasts floor-to-ceiling glass in the living room and bedroom.
"It's really great to see at night when you see a ton of light," he said. "And when the 4th of July comes around the clear view lets you see city fireworks and those going off in the suburbs. And when you go to the 44th floor, you can get a 270 degree view of the city from the west, north and east."
We've rounded up a list of residential buildings to the north, south and west of downtown, as well as in the city center, whose communal spaces, balconies and rooftops offer picturesque perspectives. Of course, this list is only a sampling — the birthplace of the skyscraper is home to countless more.
From a vintage condo building in Edgewater to a swanky high-rise in South Loop, renters and homebuyers in the market for a scenic space would be wise to check out these locales.
Horizon House | 5733 N. Sheridan Road | 31 stories
This Edgewater condo high-rise, built in 1965, boasts direct access to Lincoln Park and Hollywood Beach. Rooftop amenities include a pool and sundeck with sweeping vistas of Lake Michigan, Navy Pier and the city skyline looking south. Unlike buildings closer to downtown, Horizon House's northern locale gives it unparalleled length-wise views of Lincoln Park.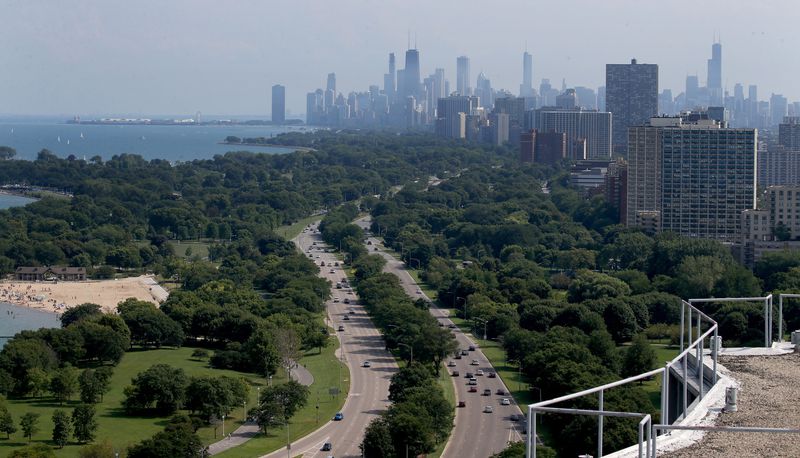 NEMA Chicago | 1210 S. Indiana Ave. | 76 stories
Chicago's tallest rental residence, NEMA Chicago in the South Loop boasts 70,000 square feet of amenities that include a 10,000-square-foot resort-style outdoor deck on the 16th floor with a pool, spas and daybeds. Also on the 16th floor, in the northwest corner of the building, is an outdoor space with a raised wood deck, fire pit and heat lamps overlooking Grant Park, Buckingham Fountain and Soldier Field. But hop the elevator for the most breathtaking views in the building, which can be found at Skyline residents' private bar lounge, Vista Lounge on the 48th floor with 22-foot ceilings and floor-to-ceiling windows.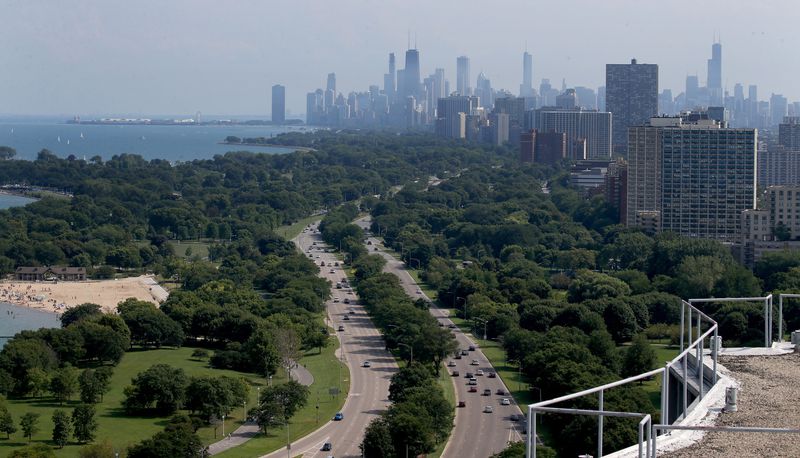 This Wrigleyville building, which welcomed its first residents in September 2018, touts amenities such as a complimentary bike sharing system, a 24/7 concierge, fitness studios and a 5th-floor amenity deck with an outdoor pool, hot tub and grilling stations. As for the view, iconic neighbor Wrigley Field sits directly to the north, providing prime views of the marquee and a glimpse of Gallagher Way. Just don't expect to catch any of the action on the field — it's all out of view.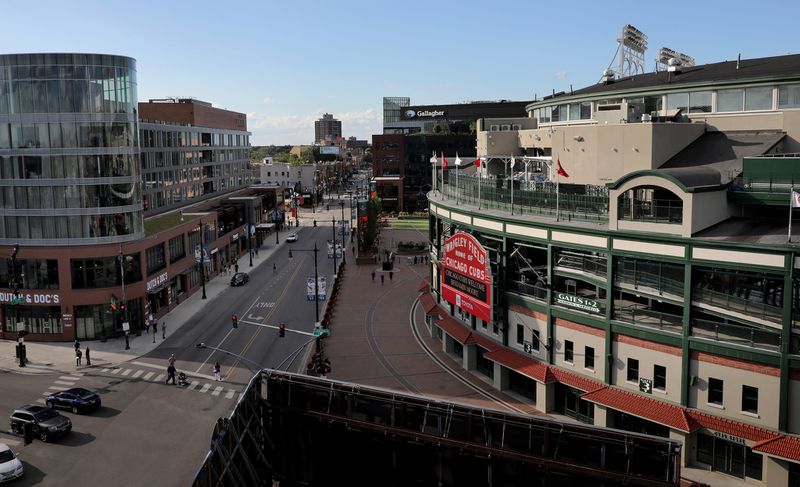 One Bennett Park | 514 N. Peshtigo Court | 68 stories
This Streeterville building boasts an adjacent 1.7-acre park just above street level. The luxury rental and condo building also includes a 60-foot indoor salt water pool on the third floor and a 10,000-square foot recreational deck with an outdoor pool with lounge area, reservable outdoor kitchens, cabanas and fire pits accessible from the amenity areas on the fourth floor (which overlooks the park). Head to floor 54 for views of North Avenue Beach and Diversey and Belmont harbors. On a clear day, you can see all the way to Loyola University's Rogers Park campus from the building's penthouse.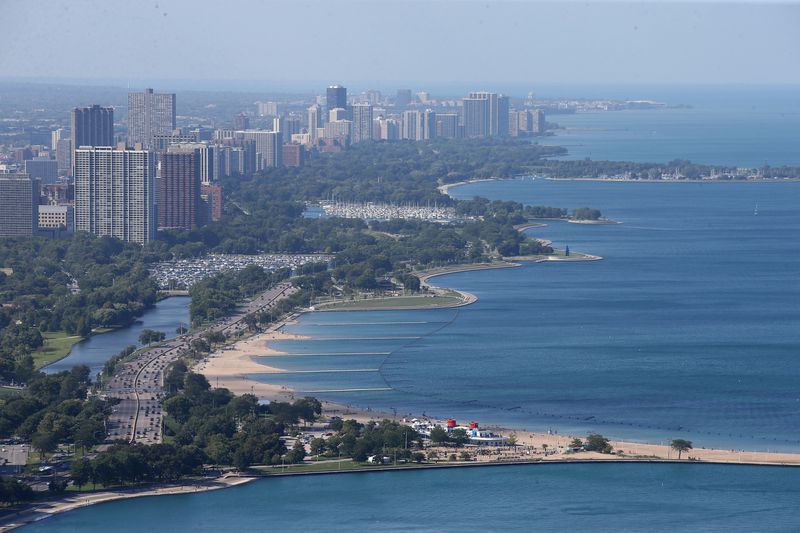 727 West Madison | 727 W. Madison St. | 45 stories
This new West Loop building (total height just under 500 feet) has a private Sky Lounge on the 45th floor (and a penthouse to boot) that provides closeup views of Willis Tower, the Presidential Towers and the rest of the Loop's sky-high buildings. There is also an outdoor, resort-style pool and spa, with grills, pool-side cabanas and sun terrace on the 7th floor.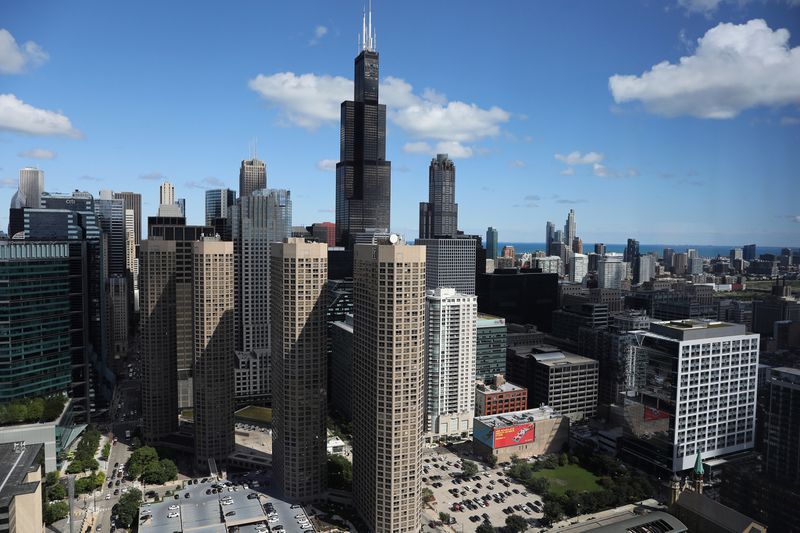 The Residences at Riverbend | 333 N. Canal St. | 37 stories
Located on the west side of the Chicago River, right at the fork, all of the units in this Fulton River District building have incredible east-facing views, but condos at the southern end of the building take the cake, with direct sightlines down the main branch of the Chicago River (pictured from the 30th floor). Amenities include an exercise room, sauna, sundeck and party room.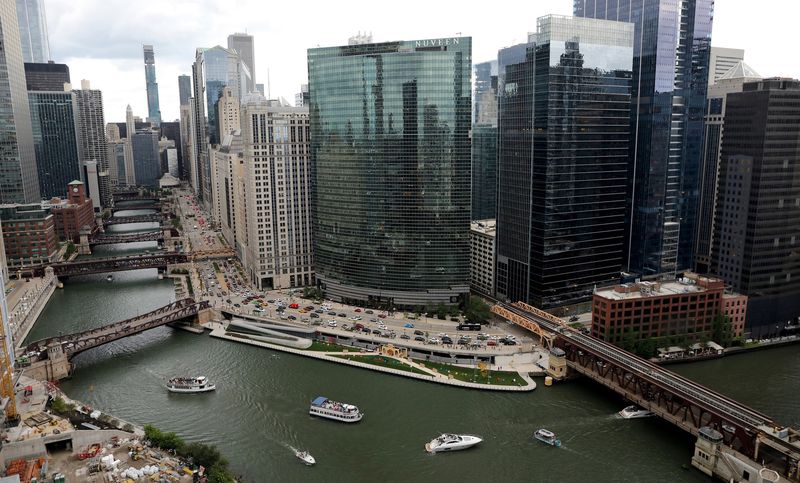 61 Banks Street | 61 E. Banks St. | Nine stories
61 Banks Street proves that height doesn't always equal might when it comes to spectacular vistas. The rooftop terrace and al fresco dining rooms of this Gold Coast building offer a lower vantage point for soaking in Lake Michigan waves and Oak Street Beach happenings. Amenities include grills and a lounge with a commercial kitchen and bar for resident use.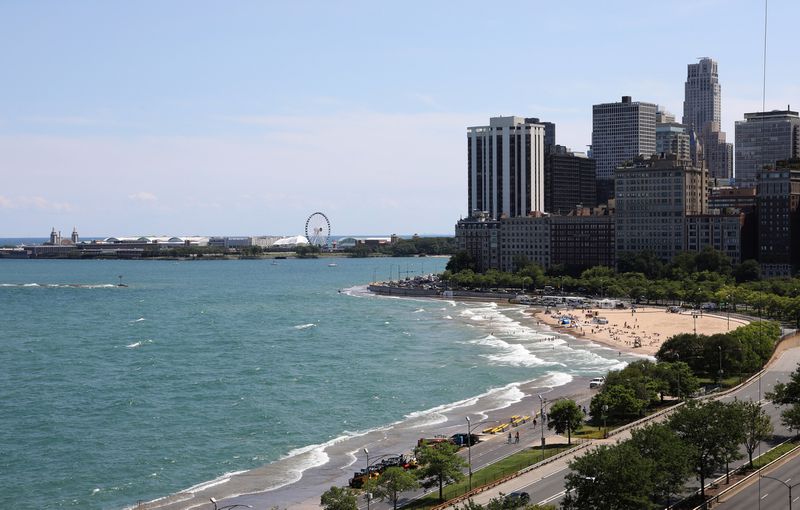 K2 Apartments | 365 N. Halsted St. | 33 stories
This West Town building sits adjacent to Interstate Highway 90 and counts a lounge, fire pit, outdoor pool, cabana-covered seating and basketball court among its amenities. It also boasts a private footbridge linked to Jewel-Osco. The penthouse floor on 33 offers a better view of the northernmost part of downtown compared to other high-rises on the Near West Side. From K2, residents get a glimpse of the river, John Hancock Tower and a sliver of Lake Michigan, plus an up-close-and-personal look at one of the city's major transportation corridors.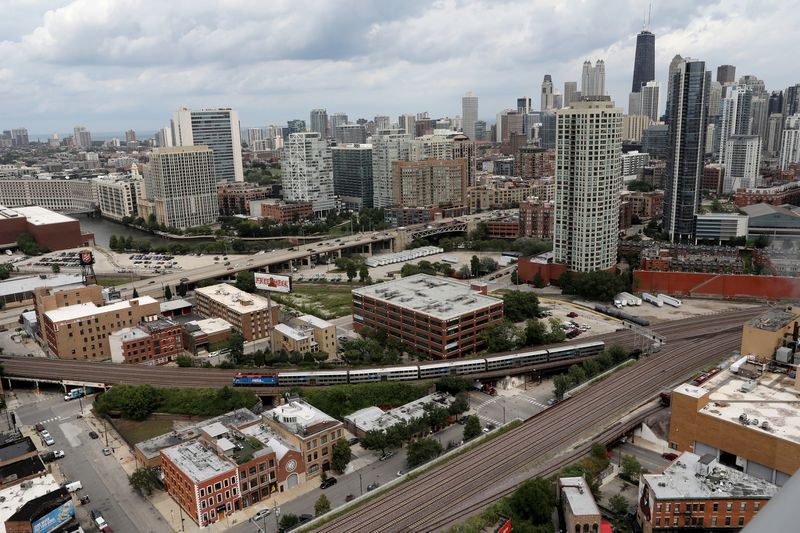 Photos By Antonio Perez CHICAGO TRIBUNE
By DARCEL ROCKETT
CHICAGO TRIBUNE | SEP 10, 2019 | 5:00 AM
Darcel Rockett is a writer and curious soul — the latter informing the former. Her curious nature has led her to write for news organizations in London, the Virgin Islands, Los Angeles and Phoenix. Currently, she writes life and culture pieces for the Chicago Tribune, where she's served as a digital editor and features reporter for almost a decade.